Film Synopsis:
At the age of seven months, Christopher Rush was diagnosed with muscular dystrophy, and his parents were told he would be "no more than a dishrag, and dead by the age of two." Christopher lived to 30, and in that time he achieved more than most able-bodied people do in a lifetime including becoming the first quadriplegic in the United States licensed as a scuba diver. He was the manager of his high school basketball team; he went to prom; he graduated from the University of Michigan with honors; and he graduated with a Juris Doctor from Wayne State University.
Shortly before his death, Chris developed a motivational program called GO FAR, a series of steps that could help guide people who wanted to achieve their goals despite the insurmountable obstacles in front of them. His mission was to share this program with those with disabilities, and by his definition, "Everyone has a disability."
This film is Chris' life story and a continuation of his work; it will inspire not only those with disabilities, but everyone, to follow their dreams, no matter the obstacles.
The film is narrated by actor Mark Hamill as the voice of Christopher Rush.
Mission:
The purpose of this film is simple: To share Christopher's inspirational story and teach his GO FAR program to those that it can truly help the most. In life, Chris was incredibly accomplished, optimistic, spiritual, and inspirational. He led by example and taught others to do the same. Unfortunately, he developed his GO FAR motivational program just before his death and was unable to complete it and share it with the world. With this film, Chris' message and legacy can live on. Chris was a passionate advocate for the disabled, and his goal was very simple – for people to understand that having a physical disability does not necessarily mean having a limited life. After viewing this film, those with disabilities will have an example of how to achieve their goals in life, no matter the obstacles. And even those without disabilities will earn how to apply the GO FAR principles to achieve their goals. Our dream is to travel nationwide to different charities and organizations that support various disabilities, and screen GO FAR for their members. This was Chris' plan: To spread his GO FAR program directly to those it can help the most. And while no person or film can replace the power that Chris had to inspire, we have worked the last seven years to create a documentary film powerful enough to serve that purpose. A portion of the proceeds from the sale of the GO FAR study guide will fund a scholarship in Christopher's name that will go to deserving individuals who aspire to achieve their goals regardless of the obstacles in front of them.
Zack Arnold: Producer/Director
GO FAR: The Christopher Rush Story is Zack Arnold's directorial debut. He has been a professional film editor for the last fifteen years, working on feature films, television series, and theatrical trailers. His current project is the show
Empire
on FOX, and the previous four years he was an editor on the hit USA Network show
Burn Notice
. His full list of credits can be viewed on
IMDB
. Zack originally met Chris in college at the University of Michigan in a film production course. The first day of class, Chris was wheeled into the classroom to stares of disbelief and silence. How could someone paralyzed function in a high level film production course that was 100% hands-on? Despite the whispers and stares, Zack took it upon himself to include Chris in his group, and thus a lasting friendship was born. They collaborated on several student film projects together and stayed friends long after Zack moved to Los Angeles to pursue his career in film editing. The last time Zack saw Chris was the day he was a groomsman in Zack's wedding. Chris passed away shortly after. Zack can be followed on Twitter
@EmpireEditor
.
Mark Richard Hamill grew up in California, Virginia, New York and Japan; his father was a captain in the United States Navy. He majored in drama at Los Angeles City College and made his acting debut on The Bill Cosby Show (1969) in 1970. He played a continuing role (Kent Murray) in the soap opera General Hospital (1963) and co-starred in the respected comedy series The Texas Wheelers (1974). Real fame came with his film debut with the hero role of Luke Skywalker in Star Wars: Episode IV – A New Hope (1977), Star Wars: Episode V – The Empire Strikes Back (1980) and Star Wars: Episode VI – Return of the Jedi (1983). He experienced a disfiguring car crash, but later played in Broadway, returning to film in 1989. During the 1990s, he became best known for providing the voice of the Joker on Batman: The Animated Series (1992). Mark will be returning as Luke Skywalker, the character that inspired Christopher Rush's GO FAR program, in the upcoming Star Wars Episode VII theatrical release December 2015, ready to inspire a new generation of fans.
Tracy Balsz: Producer/Publicist
Tracy Balsz has 25+ years experience as an Entertainment Marketing Executive, as a former marketing executive with Warner Bros. Studio Facilities, a marketing consultant for Paramount Pictures Studio Group, and currently as President of IndieMarketing, a marketing consulting firm servicing independent filmmakers. Tracy is well versed in successfully launching dozens of feature films and documentaries into the marketplace combining elements of strategic thinking, creative branding, awareness, and grassroots marketing initiatives that enhance the traditional distribution model.   Tracy graduated from the University of California – Los Angeles with a Bachelor of Arts degree in Sociology and Business Administration and currently resides in Los Angeles with her husband and teenage daughter.
Ashley Contino has more than 16 years experience in the Entertainment Industry but has worked primarily in Television Post-Production for the past 8 years as Post Supervisor and then Associate Producer on shows such as Nip/Tuck, Glee, American Horror Story, 24: Live Another Day, and most recently the first season of Empire. Ashley heard about GO FAR while working on Empire with Zack and was so inspired by the message that she quickly jumped on board. When not staffed on a show, Ashley spends time writing and is currently developing a couple projects for her own company, Beach House Entertainment. She is a graduate of the University of Southern California and holds a B.A. Degree in Communication.
For over twenty years, Craig L. Byrd has been one of the most-respected producers of creative content for major motion pictures. Ben Affleck, George Clooney and Martin Scorsese are but a few of the major filmmakers who have asked him to be part of their projects. Among the films he's worked on have been Argo, The Departed, Dreamgirls, Fight Club, Master and Commander: The Far Side of the World, The Monuments Men, The Town, Unfaithful, and Walk the Line. His interview skills are the cornerstone of his work. With over 4,000 interviews to his credit, he has interviewed everyone from Academy Award®-winning talent (Cate Blanchett, Phillip Seymour Hoffman, Reese Witherspoon) to major athletes (Wayne Gretzky, Kareem Abdul Jabbar) to musicians (Beck, Placido Domingo, Timbaland) and politicians (President Jimmy Carter, Mayor Rudolf Giuliani, George Tenet). In fact, Ben Affleck personally asked him to interview President Carter for the Best Picture winner Argo. That interview is heard over the film's closing credits. President Carter can be seen, along with Affleck and others, in the
Academy special he produced for Argo
. When 20th Century Fox International wanted to do a multi-camera shoot with Jack Black, Steve Martin and Owen Wilson, they turned to him to conduct that interview. In addition to this work, Craig Byrd writes a weekly column for Los Angeles Magazine's website (
LAMag.com
). Entitled "Curtain Call," it is an interview-driven column focused on the performing arts in Los Angeles. Amongst the people he's interviewed for this column are Barry Manilow, Audra McDonald,
Elaine Stritch
and director Robert Wilson. Lastly he has conducted live Q&A's across Los Angeles in venues ranging from The Broad Stage in Santa Monica to the American Cinematheque in Hollywood and in private sessions at 20th Century Fox.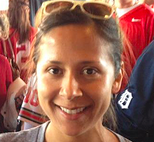 Karoliina Tuovinen: Editor, Co-Writer
Karoliina Tuovinen was born in Finland, raised in Columbus, Ohio, and is currently a Los Angeles-based editor. Since completing her MFA at the American Film Institute Conservatory, she has edited numerous narrative and documentary features and shorts. Karoliina recently edited WOODY ALLEN: A DOCUMENTARY, a biography of the legendary filmmaker. It screened at the Cannes International Film Festival and internationally on television and in theaters. Her most recent narrative work can be seen in the soon-to-be released indie romance, HOME, JAMES. Her other feature work includes the documentary, I AM COMIC, a humorous look at the lives of stand-up comedians.
Sophia Kruz: Cinematographer
Sophia Kruz received a BA from the University of Michigan in Screen Arts & Cultures, and currently works in the award-winning National Documentary Unit at Detroit Public Television. From 2010-2013, Kruz held the position of Video Producer & Editor at UMS, the University of Michigan's international performing arts presenter. Through her position at UMS, Kruz had the opportunity to work with international, professional performing artists, and has conducted numerous celebrity video interviews, including: Yo-Yo Ma, Wynton Marsalis, Audra McDonald, Valery Gergiev, Joshua Bell, Lin Hwai Min, Raul Midon, Gilberto Gil and Vladimir Jurowski. While an undergraduate, she spent summers interning with E! Entertainment for True Hollywood Story, PBS' documentary series POV, and Floren-Shieh Productions in NYC. In 2009, she travelled to Tanzania as part of a team of students documenting vision impairment and preventable blindness for the Clinton Global Initiative. Sophia is currently directing the feature documentary film
Creating4Change
.
Dorian Cheah: Music Composer
Dorian's journey in music began with violin lessons at the very early age of 2 1/2. By age 5 he was performing regularly in and around his hometown, Pittsburgh, PA. When he was 13, he and his family moved to the New York area and he continued his musical studies at The Juilliard School. Since arriving in Los Angeles, in addition to his work as a solo artist, he has composed scores to several short and feature films and has had hundreds of music placements in films and major network television shows. Last year his critically acclaimed score to "Am Limit", helmed by Oscar winning director Pepe Danquart, helped this German feature documentary to win the Bavarian Film Prize. Dorian has toured and/or recorded with many major label acts, from LA-based band The Apex Theory to Rockstar:INXS finalist MiG, to Celine Dion, En Vogue, Hayley Westenra, and more.In 2007, Dorian released his own solo album on Metastation. Produced by Bill Laswell, this instrumental work features collaborations with Zakir Hussain, Bernie Worrell, Karsh Kale, and others. He is currently co-writing and playing on another Laswell-produced project featuring world renowned African kora player Foday Musa Suso, which will feature collaborations with Herbie Hancock and Carlos Santana. In addition to his career as a musician and composer, Dorian also has extensive experience as a sound designer and editor, working on such blockbuster films as The Great Debaters, Austin Powers: The Spy Who Shagged Me, One Missed Call, The Ruins, and Stomp the Yard, to name a few.
Sam Aronson: Sound Designer/Mixer
Sam Aronson is a musician and award-winning audio professional who has worked in the Hollywood film industry for many years. In addition, he is the CEO of his own audio post-production company, Sammy Sound, Inc. He has extensive experience providing sound design, audio post-production services, and studio mixing for a wide range of projects from theatrical feature films and trailers to DVD commentaries and televisions specials. He also employs a full staff of audio professionals capable of providing sound design, audio sweetening, dialog clean-up, foley and ADR, narration recording, and the final Dolby-certified audio mix in 5.1 surround. Some if his recent credits include The Bannen Way for Sony Pictures Entertainment, numerous marketing materials for Disney's A Christmas Carol, the trailer for the Will Ferrell comedy Step Brothers, Dreamworks' Bee Movie, the Oscar-winning films Dreamgirls, The Departed, Walk the Line, and Flags of Our Fathers, blockbuster releases such as Jumper, 10,000 B.C., American Gangster, Moulin Rouge, Journey to the Center of the Earth, Master & Commander, and Kingdom of Heaven.
Electric Entertainment: Picture Services
Dean Devlin's company Electric Entertainment has generously donated their facilities to finish GO FAR. They provided visual effects, color correction, and picture finishing services including the final DCP. After screening the film in late 2012, Dean Devlin and his executive producer Marc Roskin exclaimed "This film is fantastic, and we'll provide whatever service you need to finish this film." An acclaimed writer/producer of blockbuster films and highly rated television projects, Dean Devlin serves as chairman and CEO of Electric Entertainment, the full-service film, television and new media production company and studio he founded in May 2001, which also houses Electric Post, the state of the art digital effects and post production facility. Over the last twenty years, Devlin has co-written and produced some of the most successful feature films of all time. He co-wrote and produced Stargate, Godzilla and Independence Day (which grossed over $800 million worldwide). More recently, under the Electric banner, Devlin produced the World War I action/adventure Flyboys, Eight Legged Freaks, Cellular and the critically acclaimed documentary Who Killed the Electric Car? Just prior to forming Electric Entertainment Devlin produced the Mel Gibson period drama, The Patriot, which was nominated for three Academy Awards.